In the News
Dr. John W. Hinchey Receives 2023 Best of San Antonio Award
San Antonio Award Program Honors the Achievement
SAN ANTONIO August 28, 2023 - Dr. John W. Hinchey has been selected for the 2023 Best of San Antonio Award in the Orthopedic surgeon category by the San Antonio Award Program.
Each year, the San Antonio Award Program identifies companies that we believe have achieved exceptional marketing success in their local community and business category. These are local companies that enhance the positive image of small business through service to their customers and our community. These exceptional companies help make the San Antonio area a great place to live, work and play.
Various sources of information were gathered and analyzed to choose the winners in each category. The 2023 San Antonio Award Program focuses on quality, not quantity. Winners are determined based on the information gathered both internally by the San Antonio Award Program and data provided by third parties.
About San Antonio Award Program
The San Antonio Award Program is an annual awards program honoring the achievements and accomplishments of local businesses throughout the San Antonio area. Recognition is given to those companies that have shown the ability to use their best practices and implemented programs to generate competitive advantages and long-term value.
The San Antonio Award Program was established to recognize the best of local businesses in our community. Our organization works exclusively with local business owners, trade groups, professional associations and other business advertising and marketing groups. Our mission is to recognize the small business community's contributions to the U.S. economy.
Click here for more information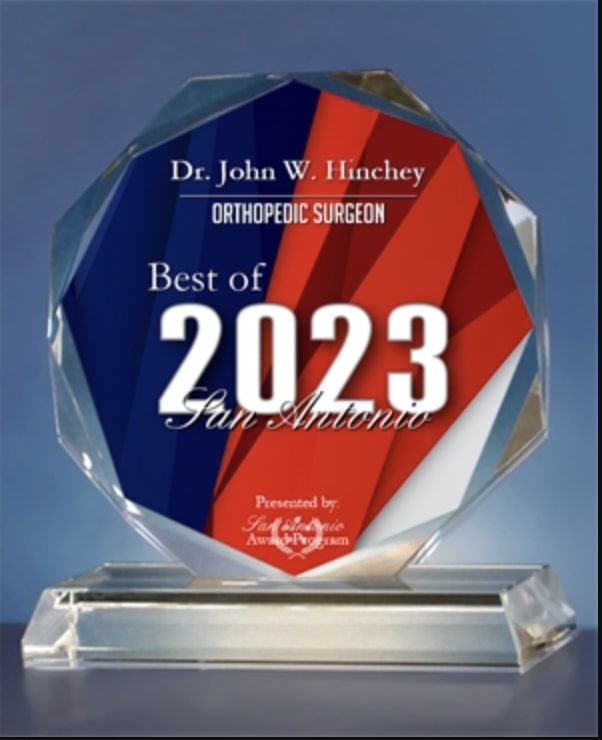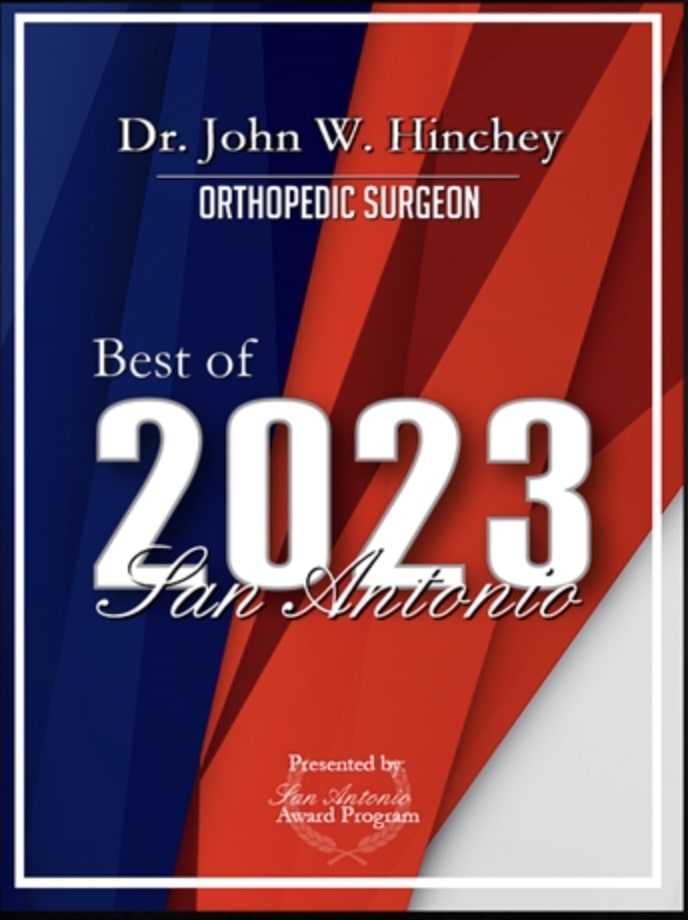 ---
Excited to announce the partnership between Ortho San Antonio and UIW Athletics! I look forward to providing top notch orthopaedic care to the UIW student-athletes!!
The University of the Incarnate Word (UIW) Athletics Department and Ortho San Antonio have formed a partnership for sports medicine announced Director of Athletics Dr. Brian Wickstrom on Wednesday, May 15, 2019.
Ortho San Antonio has partnered with CHRISTUS Santa Rosa to provide comprehensive orthopaedic and sports medicine care in San Antonio and the surrounding region. Ortho San Antonio physicians include: Dr. Matthew Morrey, Dr. Matthew Murray, Dr. Travis Burns, Dr. John Hinchey, Dr. Jesse DeLee and Dr. Rudy Navarro.
Dr. Hinchey is an Orthopaedist who is fellowship-trained in Shoulder and Elbow Reconstruction. He serves as the current President of the San Antonio Orthopaedic Society and on the Board of Directors for Bexar County Medical Society.
Click here for more information
---
Ortho San Antonio will be the official physicians for the San Antonio Athenians!
Come out and catch some great soccer!